How to Make Your Statistical Software Fit You Perfectly
Tremendous amount of data has been collected by organizations all around the world thanks primarily to the World Wide Web! This collection is useless unless it is analyzed to see a pattern. It is important for decision makers, researchers and policy makers throughout industry, academia and Governments to integrate the huge collected data to suit their needs. A good software provider will seek to understand your organization's unique needs and work with you to find the most cost-effective solution.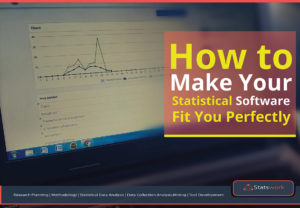 How does one decide the best statistical software to use? There are questions of price, time available to learn to use it and most importantly the nature of data.
Excel is quite a powerful instrument often used in biomedical research to combine large volumes of data. It does contain some basic statistical analysis and could serve for simple inferences. Data can be exported into an excel spreadsheet, making it easy to test or determine the dispersion of the data. Excel fits the bill for simple statistical analyses. It only takes a couple of hours to learn most macros and select your data analysis tools. The tutorials are free too.
Data mining is the process of finding anomalies, patterns and correlations within large data sets to predict outcomes. Using a broad range of techniques, you can use this information to increase revenues, cut costs, improve customer relationships, and reduce risks. Data miners use R, SAS, and SPSS the most as all these software operate on Windows, UNIX and Mac.
IBM SPSS is a statistical package originally designed for social sciences. It is convenient for those creating classifiers for diagnostic purposes. It handles extensive analyses, is user friendly and takes only a few hours to learn the ropes. It uses pull-down menus through which most of its features are available. Though SPSS is a little pricey, it serves as the ultimate statistics solution for business, academicians and researchers.
Statistical Analysis System (SAS) is an integrated system of software products provided by SAS Institute Inc., which enables programmers to perform: Information retrieval and data management report writing and graphics, statistical analysis, and data mining. SAS has been the undisputed market leader in commercial analytics space. The software offers huge array of statistical functions and has good GUI for people to learn quickly and provides awesome technical support. Its data mining modules are extremely easy to use. SAS supports very large datasets, releases well tested software updates. Their pricing is client specific.
R is an open source package for statistical programming. Due to its nature R has a large and supportive community that incorporates latest techniques and release updates frequently. Though it is free, the programming language R has to be learnt to use the package. It can do extensive complex analysis but requires a lot of time to grasp. Actually, not all data require such advanced computing for making conclusions.
So, you could choose your statistical package to suit your needs perfectly by spending nothing to shelling thousands. Needless to say each has its own niche!